Principal Investigator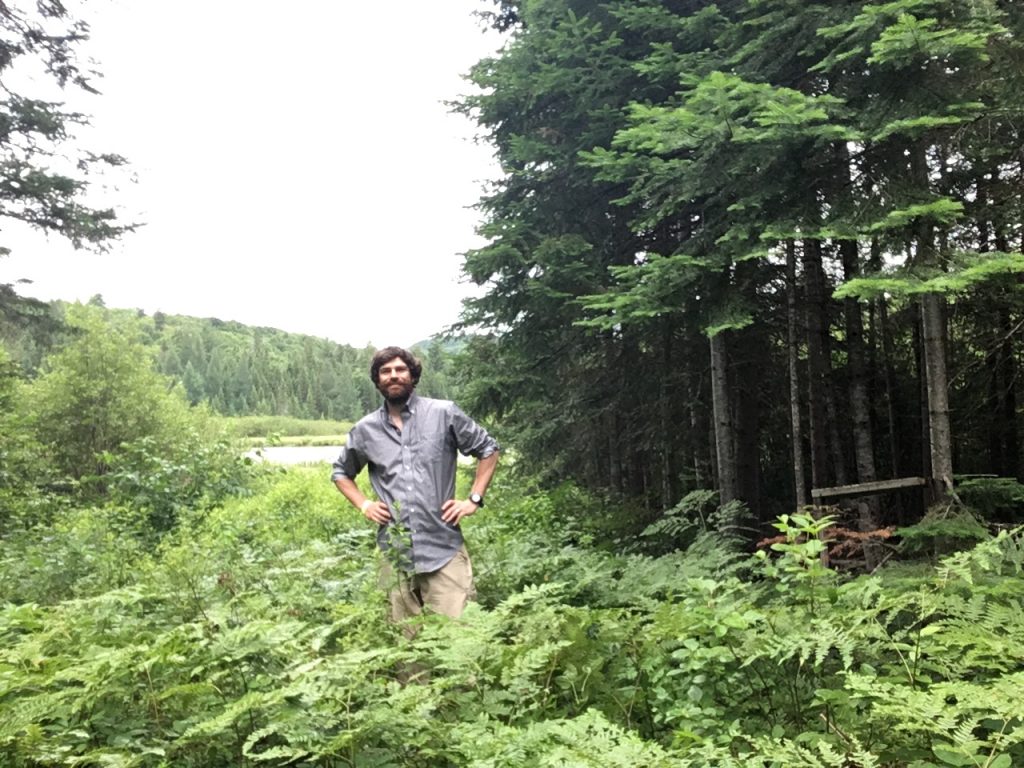 I am interested in a wide array of topics, including maternal effects, thermal ecology, and the evolution of life histories. I work with ectothermic vertebrates, and I use non-model systems to answer fundamental and applied questions in evolutionary ecology and conservation.
Previously, I worked with Dr. Ron Brooks (MSc. U. Guelph), Dr. Jeff Hutchings (PhD. Dalhousie U.), and Dr. Locke Rowe (PDF University of Toronto).
Most of my current research program is based out of Algonquin Park in Ontario.
PhD Students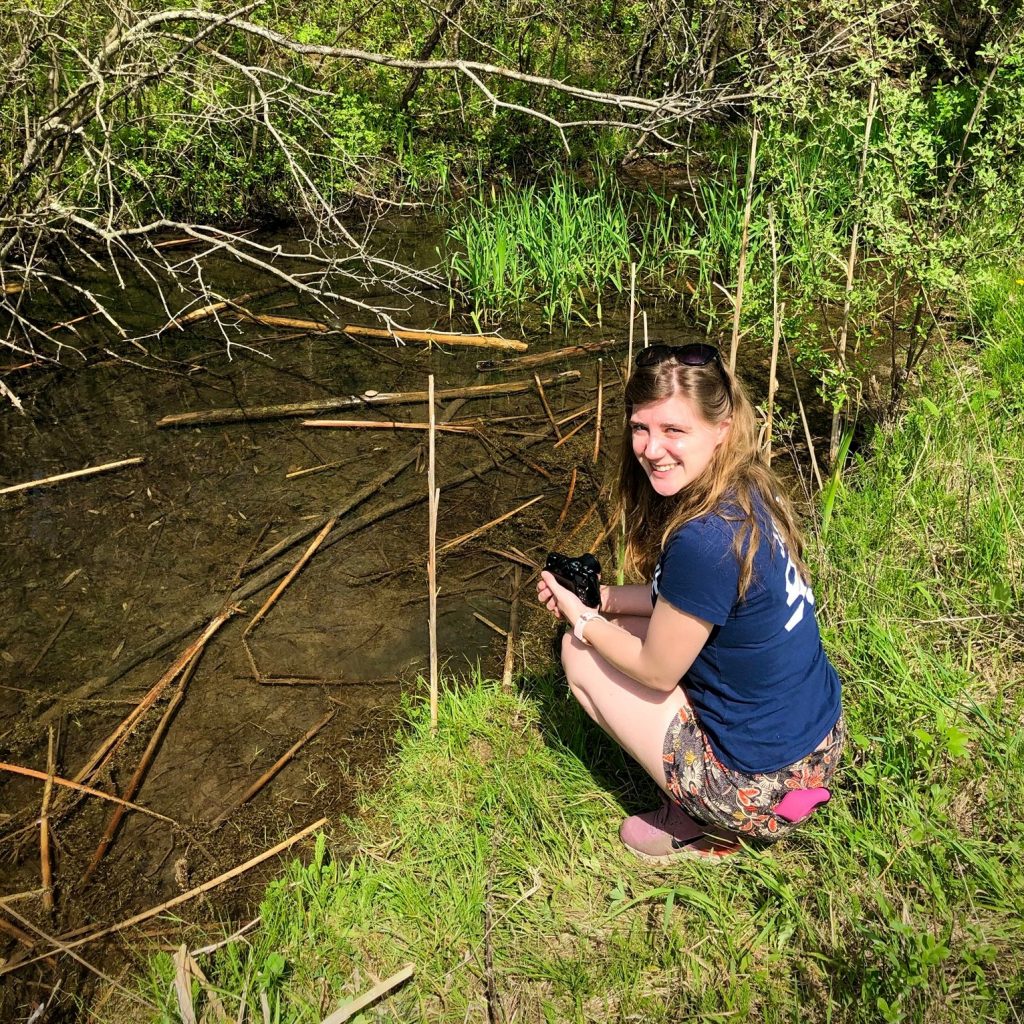 Jessica hails from Scotland, where she studied at the University of Stirling and the University of Glasgow. Her previous work looked at the trade-off between reproduction and survival in wild Soay sheep. Here in Toronto, she has developed an interest in understanding the effect of temperature and climate change on embryonic development in the common snapping turtle & painted turtle. An area of study made even more important because the incubation temperature of the embryo permanently determines it sex. More broadly she is interested in understanding variation in life-history strategy, and how temperature affects life-history traits including offspring sex ratio.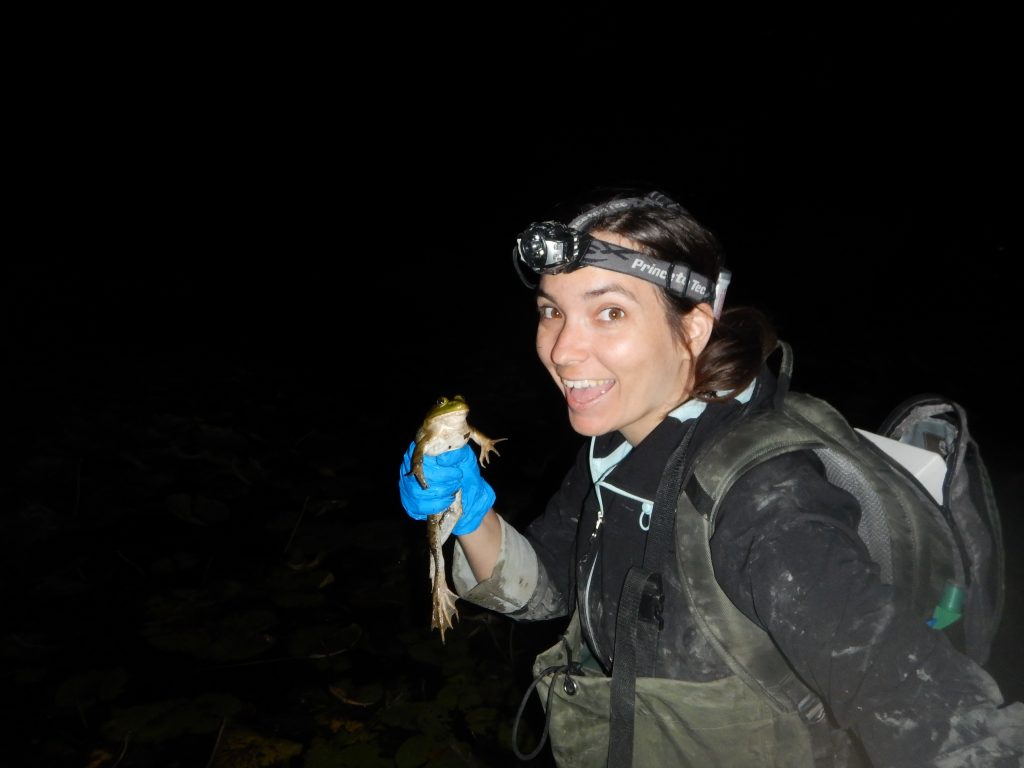 Hollis is interested in how organisms diversify and evolve in dynamic geographic arrangements and environments. She holds a long-time enthusiasm for herpetology, as well as Chinese culture and language. An advocate for scientific outreach, cultural exchange, and international scientific collaboration, she will continue to travel to China and collaborate with researchers there.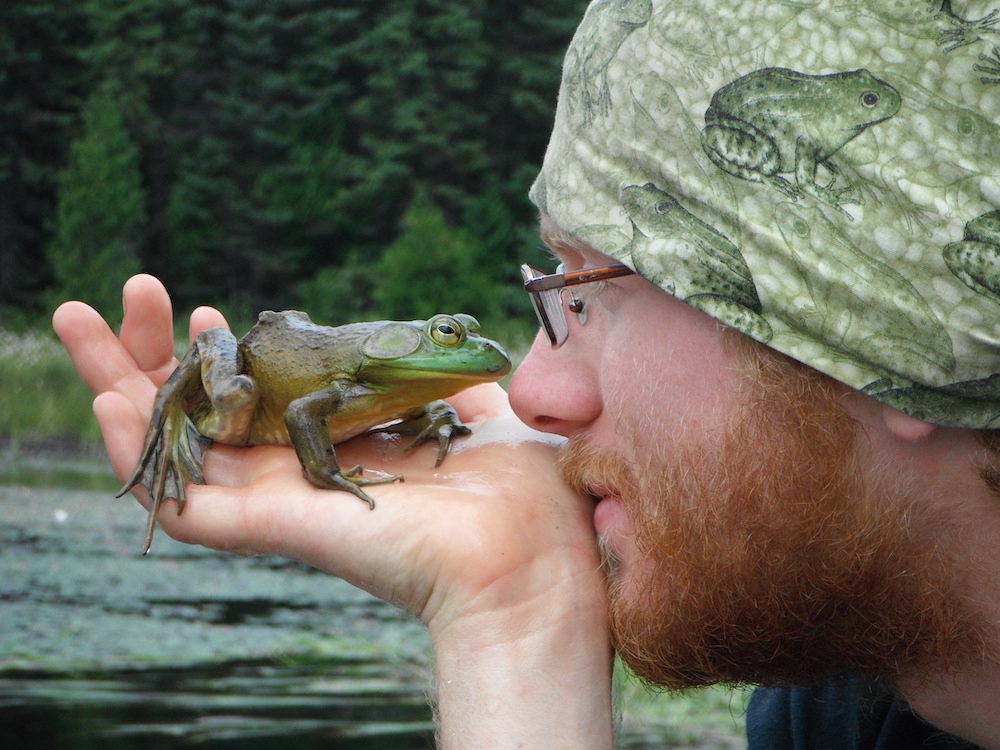 Patrick is interested in evolutionary ecology, herpetology, conservation, and natural history. His research is based at the Algonquin Wildlife Research Station, where he focuses on the sensitivity to environmental change in the spotted salamander and the long-term life history study of turtles. Patrick is the recipient of several awards, including Canada's New Noah Scholarship, and he is a strong proponent of scientific research, evidence-based policy, and stewardship programming to raise public awareness for conservation. If you would like to learn more about Patrick's amazing work you can visit his website here!
MSc Students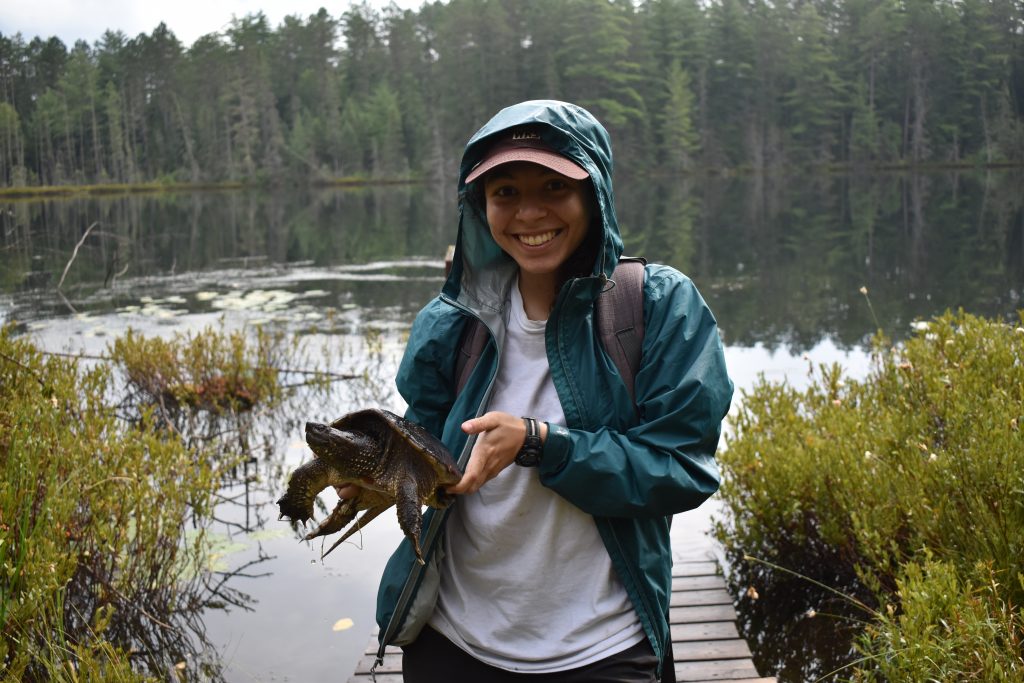 Mariel is studying the life history of painted turtles in Algonquin Park, based out of the Algonquin Wildlife Research Station. She will specifically be looking at the evolutionary ecology of temperature-dependent sex determination in turtles through a combination of genetic and life-history based strategies. In her free time, Mariel enjoys playing Dungeons & Dragons, knitting/crocheting, solving puzzles, and learning new languages.
Protection of natural land is fundamental in species conservation but managing protected land can be equally as important. Ecosystems and environments change over time which can result in the loss of critical habitat for certain species. This is the case on Pelee Island where Ryan's project takes place, focusing on disappearing globally rare grasslands and alvars and how they are managed for Canada's most endangered snake, the Blue Racer (Coluber constrictor foxii). In addition to conducting population analyses to determine the status and distribution of these snakes across current available habitat, he is comparing the efficacy of two major management practices (prescribed fire and mechanical removal) in restoring and maintaining suitable habitat for the species.
Current Undergraduate Project Students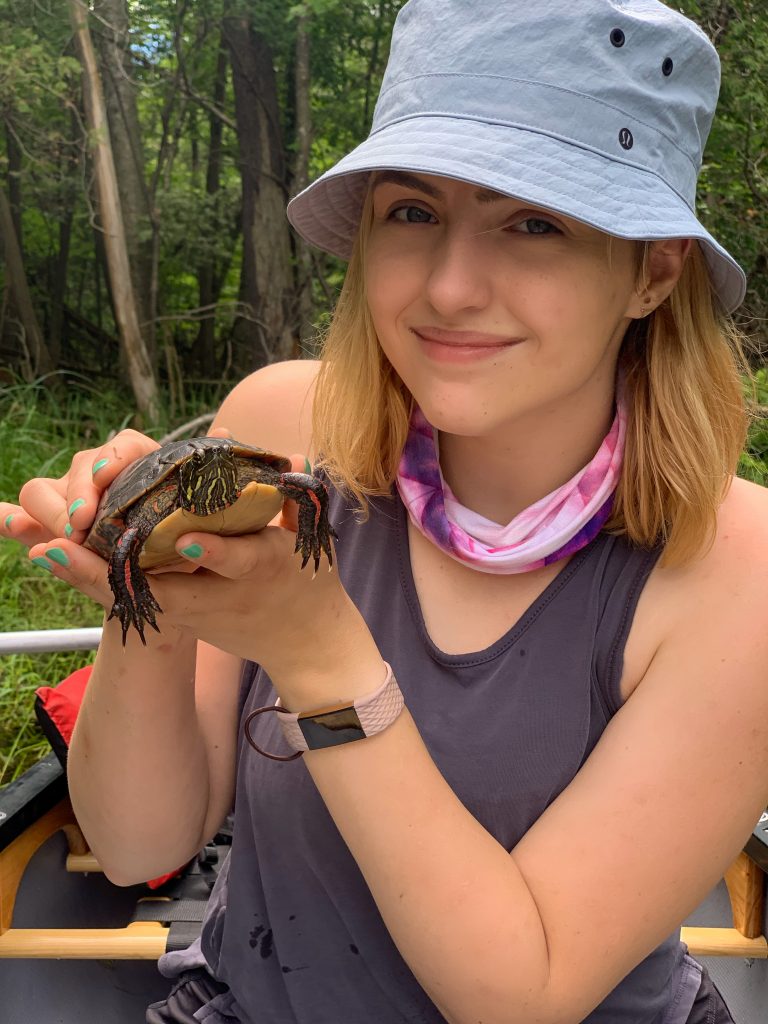 Claudia is interested in the intersection of behavioural ecology, evolutionary ecology, and conservation biology. With a particular enthusiasm for herptiles, her research focuses on understanding the connection between hatchling turtle social behaviour and acoustic signalling (a.k.a. vocalizations!). She is also an advocate for science communication, education, and outreach. In her free time, Claudia enjoys wildlife photography, rock climbing, and playing volleyball.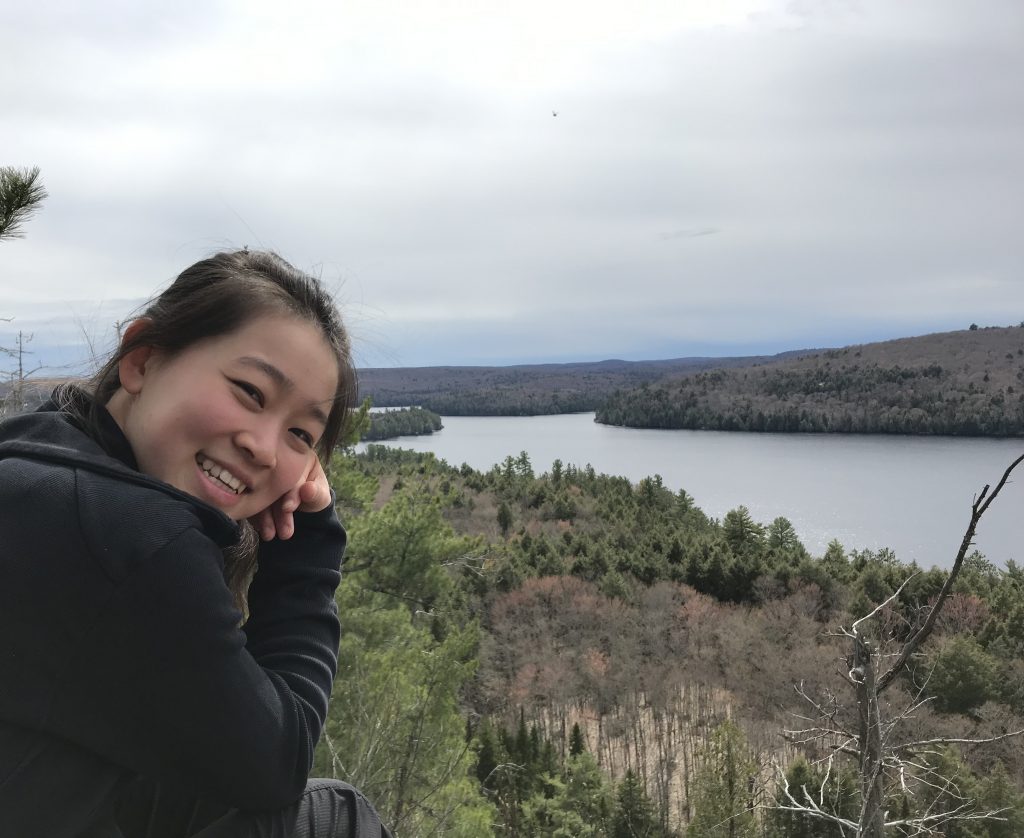 Gloria is an undergraduate student studying Ecology & Evolutionary Biology and Statistics. She is working on classifying abnormalities in the morphology of spotted salamanders in Algonquin Provincial Park. During the pre-COVID era, she spent her free time hiking, figure skating, and looking for the best cheap eats in Toronto. More recently, she has picked up knitting and baking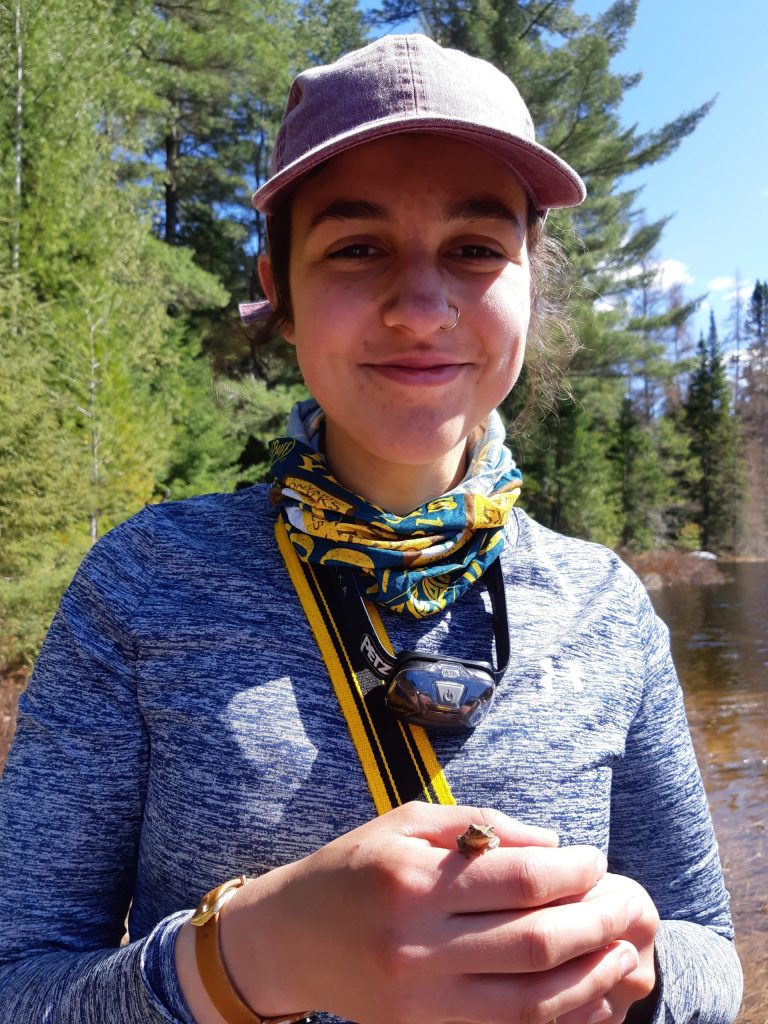 Danté is an interdisciplinary researcher, with a range of previous study focuses from bee pollination to plant genomics to reptile neurobiology. Her current research interests lie at the intersection of ecology and neuroscience, with a central focus on the morphology and phylogenetic analyses of turtle barbels, integumentary sensory structures. She hopes to dedicate her growing research career to investigating ethnoecological approaches to conservation. In her spare time, Danté is a passionate writer, guitar-twangler and traveller, dappling in photography and illustrative work.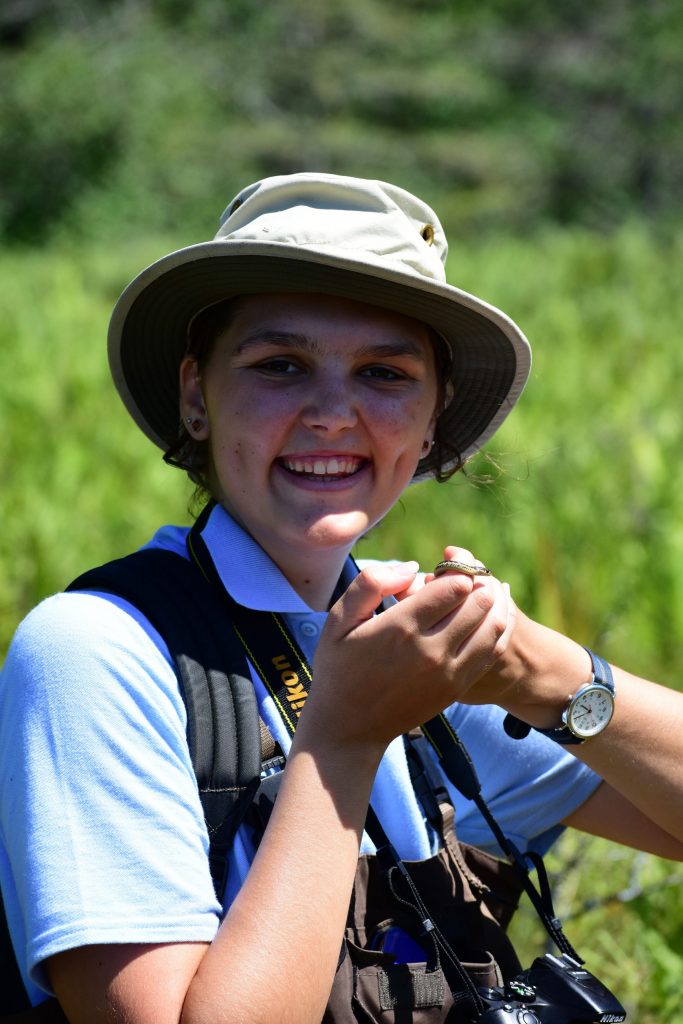 Teagan is currently working on colour morphs of Plethodon and ecological context.
Alumni
MEGAN GREISHAR, 2017-2019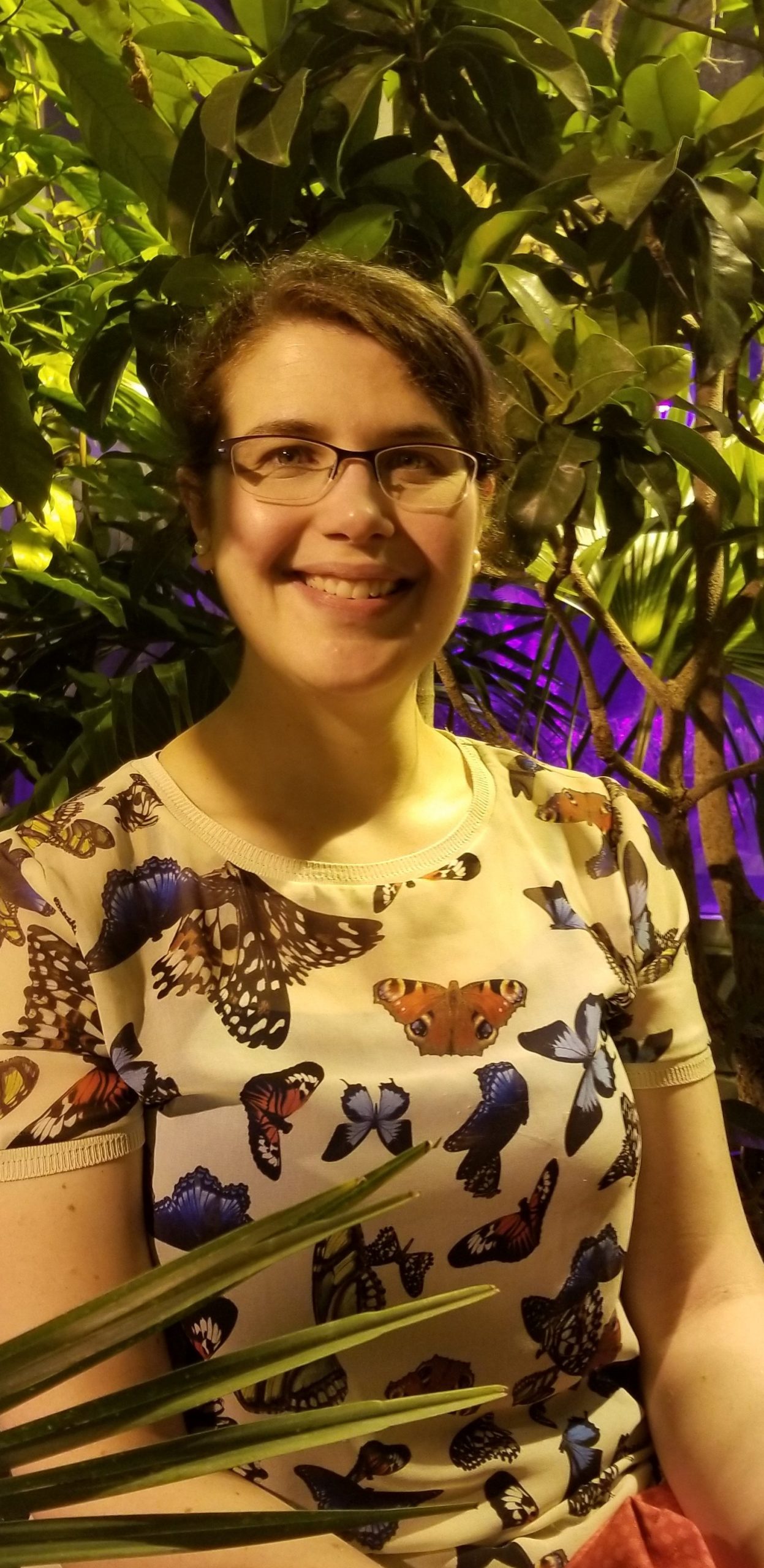 KATIE ZIEBARTH, MSc 2018-2020 (co-supervised by MARIE-JOSEE FORTIN)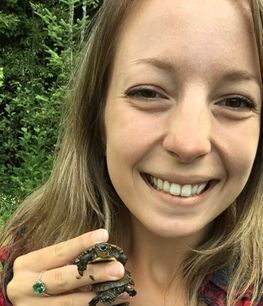 MELANIE MASSEY, MSc 2016- 2018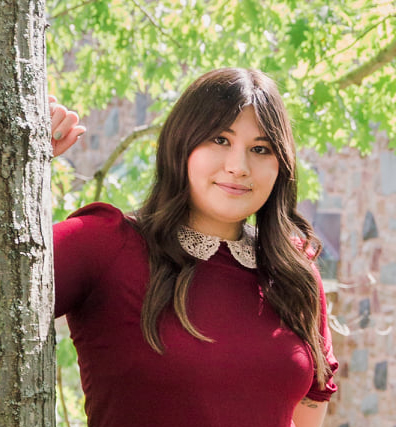 Melanie is a critter enthusiast, artist, and public outreach advocate. During her time in the Rollinson Lab, she studied how the thermal environment of eggs affect sex ratios and development in Snapping Turtles. Now, she is doing a Ph. D. at Dalhousie University, where she is looking at how environmental variability affects developmental physiology of the zebrafish, a model organism. In addition to staring at eggs all day, Melanie is also working on an outreach initiative in Nova Scotia for Black, Indigenous, and people of colour youth, to engage them with Ecology. You can check out Melanie's website here!
Undergraduate Alumni & Research Topics
2019
Malcolm Fenech – Social behaviour in adult turtles
Aisha Faruqui – EEB397 – Evolution and maintenance of TSD
Claudia Lacroix – EEB397 – Social behaviour in hatchling turtles
Dante Ravenhearst – EEB498 – Ecology and evolution of turtle barbles
Jared Connoy – EEB498 – Evolution of TSD and nesting patterns
Hayley Vlcek – REP – Nest site selection in painted turtles
Gloria Gao – REP – Abnormalities of spotted salamanders in natural ecosystems
Pallavi Pal – Trinity One Internship
Lucas Warma – Trinity One Internship
2018
Daire Crawford – REP – Condition-dependent reproductive timing in toads
Mariel Terebiznik – REP – Phenotypic – environmental correlation of sex in turtles
Lauren Lawson – EEB498 – Incubation regimes in turtle conservation programs
Natalia Hrynko – EEB498 – Reproductive biomass of amphibians in Algonquin
2017
Carter Rouleau – REP – Evolution of thermal reaction norms in turtles
Deborah Hawkshaw – EEB498 – Evolution of sexual weaponry in turtles
Ann Francis – REP – Nest site selection in natural vs anthropogenic sites
Christopher Reid – CGCS scholar – Climate change & early growth of turtles
Dana Berg – CGCS scholar – Climate change and phenology of turtles
Vivian Shum – NSERC USRA – Evolution of senescence in Daphnia
2016
Jessica Santilli – EEB498 – Bergmann's Rule in Turtles
Lucian Wang – EEB398 – Evolution of maternal effects in Daphnia